This year London's shortest cabbie, our newest committee member Claire Zazzara plans to lose four stones, get fit and climb Mount Kilimanjaro, while raising money for the London Taxi Drivers' Charity for Children
Claire Zazzara, 46, has been a London Cabbie for eight years. At only 4ft and 10 inches she is proud to be London's shortest cabbie. Over the years she has driving, the sedentary nature of the job has meant that the weight has crept on and now weighing in at 12. 5 stones Claire knew she needed to make a big change to the way she lived her life.
Last year she followed, the progress of a group of London Cabbies called "Cabbies Do Kilimanjaro" who lost over 20 stones and climbed Kilimanjaro. When two of the cabbies from the first challenge sent out a tweet saying that they were looking for cabbies to join them in 2020, Claire knew this was the challenge she needed to kick start her new regime.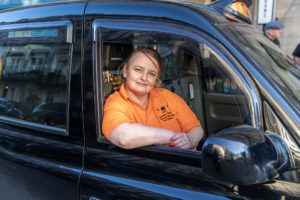 Claire Zazzara said, "I am delighted to be part of the Cabbies Do Kilimanjaro fundraising group. I was 7 stone when I started the knowledge and I knew I needed to make a change to my sedentary lifestyle. Conquering a mountain is a daunting task but with the support of my family and the determination that sees me get through London traffic every day, I believe I can make this dream a reality."
The thirty cabbies who responded to the tweet to join the fundraising group, will be heading to Tanzania in October and are attending Be Military Fit training sessions in their local parks to prepare them for the mammoth six-day ascent of Kilimanjaro. In March the group has signed up to a training weekend in the Peak District to assess how fit they are and to understand more fully the enormity of the challenge ahead. This will be the first in a series of four training weekends that will become progressively harder each time.
Claire continued, "We cannot underestimate the enormity of the challenge we have signed up to.  Together we are supporting the London Taxi Drivers' Charity for Children which since 1928 has taken over 90,000 special needs and disadvantaged children on days out. We want to raise over £7,500 for them and just like studying for the knowledge… giving up is not an option, we cabbies are a tough bunch."
About Cabbies do Kilimanjaro
After successfully raising £18,000 for The Taxi Charity for Military Veterans in 2019 by losing 12 stones in weight, getting fit and climbing Kilimanjaro, two of the original Cabbies Do Kilimanjaro, Daren Parr and John Dillane, have put together a much bigger challenge for 2020.
A group of 30 London Licensed Taxi Drivers, will be attempting to lose 52 stones, get fit, with the support of Be Military Fit and then travel to Tanzania in October 2020 where Daren and John will climb 4,562 metre Mount Meru before being joined by the rest of the cabbies to climb 5,895 metres, to the summit of Mount Kilimanjaro.
The Cabbies do Kilimanjaro team is hoping to raise £7,500 for the London Taxi Drivers' Charity for Children and £2,500 for a children's community project in Tanzania
Follow their progress on;
Twitter @cabbiesdokilimanjaro
Facebook CabbiesDoKilimanjaro
Instagram Cabbies_do_kilimanjaro
To donate visit www.justgiving.com/crowdfunding/cabbiesdokilimanjaro
For more information, to arrange interviews and to request images please contact:
Christina Bowden
Bowden PR
07984 433614