Gala Dinner
A Gala Dinner and Dance was held in the Palace of Westminster to celebrate 80 years of assisting disadvantaged children in Greater London.
Lord Mayor's Show
The London Taxi Drivers' Fund for Underprivileged Children were honoured to wind up their 80th anniversary year by taking part in the very prestigious 793rd Lord Mayor's Show, which introduced the 681st Lord Mayor of the City of London, Ian Luder.
Mad Hatter's Tea Party
The '80th Anniversary' party was held in the Great Room of the Grosvenor House. Over 650 'special needs' and disadvantaged children were treated to a memorable afternoon full of non-stop spectacular, amazing, fantastic, magnificent, dazzling and brilliant entertainment.
Southend-on-Sea
To continue the celebrations, the LTFUC had a legendary outing to Southend-on-Sea. The forecast for the whole day was heavy rain but 97 drivers turned up to give the children a great day out.
Fun Day – Covent Garden
The LTFUC continued their 80th anniversary celebrations by holding a fun day at the Piazza, Covent Garden and during the day Hon. Chairman, David Lessman, joined by the Committee, made a presentation of 20 children's Wheelchairs, totalling £4,000 to Sue Dowell, the London Fundraising Manager of British Red Cross, after they put out an appeal for help.
Chessington
90 London decorated taxis assembled on Earls Court to collect 240 'special needs' and disadvantaged children on their outing to Chessington World of Adventures in the fund's '80th Anniversary' year.
Dockland Scout Project
The LTFUC made an official presentation of four especially equipped boats for 'special needs' children; value £12,000, to the Dockland Scout Project at their marina.  The amount of £12,000 had been bequeathed to the LTFUC by the late Daphne Joan Lines, who was a great supporter of the fund.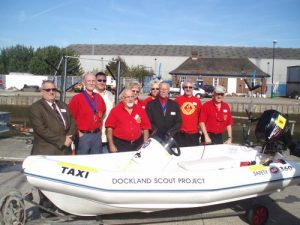 Members of the LTFUC Committee at the
Marina with one of the presented boats named 'Taxi'