Dear Members, Friends, and Supporters,
The Covid pandemic has affected all of us in one way or another, and our charity was no exception. The cancellation of our events, including our annual children's taxi trip to Southend on Sea and the Mad Hatter's Tea Party at the Grosvenor House, was a disappointment to all of us but most of all the children. Nevertheless, we created a Mad Hatter's Hat Competition to keep engaged with the children, especially during the lockdown. As a result, the children designed some very amusing hats, and we were delighted the children took part. Three children were chosen as winners, each receiving a monetary prize. In addition, all the children who took part received a Certificate of Achievement. The school of the pupil who won first prize also received £1,000 to buy much-needed equipment.
During the pandemic, the charity continued to offer financial assistance to those in desperate need of help. We also gave grants to food banks, which have been a lifeline for families going through difficult times.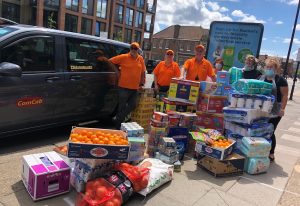 I am now pleased to say we are planning events for next year including the outing to Southend which the charity has organised for many years. Together with 100 volunteer taxi drivers and 300 children and helpers, this will prove to be another fantastic day for the kids, and I would like to take this opportunity to thank London Taxi Drivers and supporters who assist our efforts and volunteer their time and generosity in making our events so successful.
Raising revenue is the lifeblood of any charity, and we intend to resume fundraising this Christmas on 17th December at Burlington Arcade London. We will be joined by our famous reindeer taxi and Sing Gospel, one of London's incredible choirs.
We are so indebted to our benefactors, who continue to offer financial assistance, and the public for their donations. This revenue helps the charity with other pursuits, such as purchasing medical and recreational and other various specialised equipment to individual families, special needs schools, and hospitals within the Greater London and Suburban Areas. I take this opportunity to congratulate and thank Max Gillam, who decided to celebrate his 13th birthday by climbing Mount Snowdon and raising £955.43 for the LTCFC – a fantastic achievement!
I want to offer a special thanks to Daren Parr, and all the 'CABBIES DO KILIMANJARO 2' team and their sponsors for their continued support in raising revenue for the LTCFC, especially during these difficult times. We wish them well for their climb to the top of Kilimanjaro in February 2022. Mount Kilimanjaro is the African continent's highest peak at 5,895 meters (19,340 feet). It is a tremendous task and will require so much endurance and willpower to get to the top, and on behalf of the LTCFC committee and the children, we wish them all the success they deserve.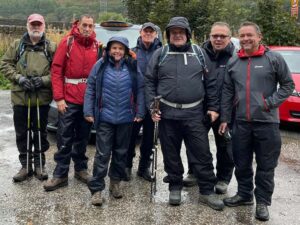 We were deeply saddened to hear of the passing of His Royal Highness Prince Philip, The Duke of Edinburgh, earlier this year. His Royal Highness was a great advocate for our industry along with other members of the Royal Family, including HRH The Prince of Wales and HRH The Duchess of Cornwall who continue to be incredible supporters of our charity and the wider London Taxi industry. We are so grateful to our Patron HRH The Duchess of Cornwall, for her continued and valuable support and interest in the activities of the LTCFC. I have been asked to convey her sincere best wishes to all.
On behalf of the committee, I also take this opportunity to convey our sympathies to all those parents and carers who have suffered grief at the loss of children who have succumbed to dreadful medical issues.
We are thankful for the support from the taxi trade media and other media networks that allow the charity's activities to be introduced to a wider audience.
I thank my fellow Executives for their support and diligence in keeping the administration and the financial security of the charity with professionalism. I pay tribute to the Committee and their partners who give so much of their time and energies for the wellbeing of children who no doubt endure some very tough times.
If you would like more information on the activities of the LTCFC or to make a donation please visit our website www.ltcfc.org.uk or email committee@ltcfc.org.uk  Lastly, I thank all LTCFC members for the support they have given me during this year and wish everyone a Merry Christmas and a happy, but most importantly, a Healthy New Year.
Michael Son BEM
LTCFC Honorary Chair
m.son@ltcfc.org.uk