Step by Step are proud to be the grateful recipients of a new jumping castle, kindly granted by the London Taxi Drivers' Charity for Children. The jumping castle provides their children with a safe space to let off steam, have fun and enjoy activities that regular children enjoy.
LTFUC committee member Gerry Dunn MBE went down for the ribbon-cutting ceremony, which took place at their summer play scheme. He was presented with a plaque in appreciation for granting the jumping castle to Step by Step.
Step by Step said "the jumping castle is a welcome addition to our range of toys and activities- it enables us to provide an even bigger range of activities for our children and to cater to the needs of all our children, no matter how disabled.
We are really grateful to the London Taxi Drivers' fund for Underprivileged Children for granting us the jumping castle and for making such a difference in the lives of our disabled children."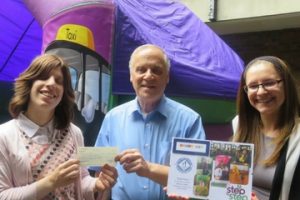 New Jumping Castle Inaugurated!