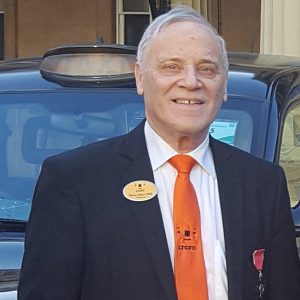 I would like to start my 21st annual Treasurers Report by thanking the Chairman and fellow committee members for their support over the past 50 years, 21 of those as Honorary Treasurer, a position I have held with pride. The past year has been difficult in raising funds, but due to careful control of our expenditure we have given away a considerable amount. Even though we did not run our usual Southend outing we did return to Woburn Safari Park and have supported many worthwhile causes.
We donated special equipment to the Hatton School for special needs children to the cost of £5,195. These were special rebounders that the school desperately needed. We were very pleased that the Shadow Health Secretary, Wes Streeting attended to give his thanks when these were presented. Some of our Committee members helped Norwood replant their gardens, and we also bought them a profiling bed, an integral air chair and some trikes to the tune of £8,563. We also donated £2,000 to the Huruma Orphanage raised by the Cabbies Do Kilimanjaro team. They not only climbed Mount Kilimanjaro but also Mount Meru too. Another of our donations went to Outward Housing for a young person with complex needs, and other small donations were made that took our total spend to over £17,000. Earlier this year we held our annual Xmas party for children with special needs at the JW Marriot Grosvenor House. Over 550 children enjoyed a wonderful afternoon of entertainment finished off with our Charity holdalls filled with goodies.
I would like to place on record our sincere thanks to the Worshipful Company of Tin Plate Workers alias Wire workers who have supported us for many years. Also, I would like to thank Russell Poluck and the Taxi Driver of the Year Charity Fund for their generous donations. There are also many other donators that I would like to thank, and they have all been thanked personally.
We are especially proud of the fact that our expenses are one of the lowest of all the registered charities due to the fact that all our members are volunteers and receive no payment whatsoever for their time and energy.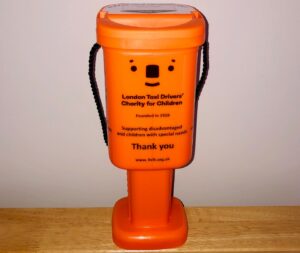 I would like to place on record my thanks to all the garages, pubs and clubs that have our collecting boxes. This is a great source of income for the Charity. If there is anyone who can place one of our boxes in their local pub or club can they please contact the committee on committee@ltcfc.org.uk or phone 0300 365 4404. We also have tip up seat adverts where passengers can donate via our website. This is a new way of raising funds and so far has raised many hundreds of pounds.
Once again, I would like to thank Michael and the committee for their support over the past 21 years whilst being Treasurer, and I look forward to assisting the next Honorary Treasurer in his new position.
Gerry Dunn MBE
LTCFC Honorary Treasurer
g.dunn@ltcfc.org.uk