Every year, we ask for help from volunteer London licensed taxi drivers to take part in an outing, where we take over 250 special needs children to Southend-on-Sea. This year, the date set for Tuesday 25 June.
Can you join us on Tuesday 25 June 2019?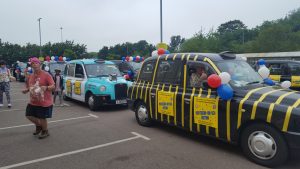 To give you an idea of what goes on for the day, we have put together a little more information for our volunteer licensed London taxi drivers.
We meet at Sainsbury's Low Hall car park in Chingford from 6.30am where we will have bacon and sausage rolls and tea and coffee waiting for you and we will supply bottles of water for yourself and the children for the journey to Southend-on-Sea. We set off at approx 9.30am.
Many drivers choose to decorate their taxis, don't worry if not, because we will supply you with balloons and posters. There is a prize for 'best dressed taxi' on the day.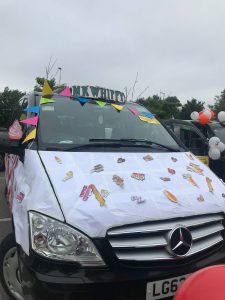 The children arrive and are allocated to each taxi, and with the welcome support of Kavanagh Motor Group and an ambulance crew, our noisy convoy of brightly decorated taxis makes its way out of London to the coast.
After driving along the Southend sea-front, where some children will observe the sea for the first time in their lives, we head for the Cliffs Pavilion for lunch. Parking is provided for all licensed London taxi drivers free of charge.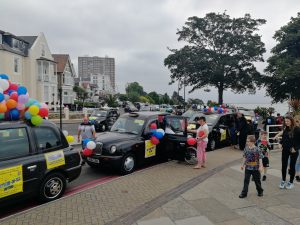 Drivers are encouraged to stay with their groups for the day, for the children the afternoon is spent enjoying the amazing Adventure Island complex. Following tea and a disco back at the Cliffs Pavilion, our convoy returns to London with tired but happy children!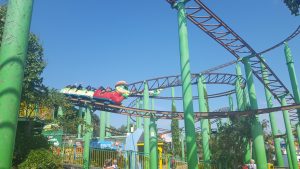 Watch the official Southend video.
Watch Leigh Fire Station's Green Watch hose down the cabs on the journey home from our 2018 trip.
We aim to be back at Sainsbury's Low Hall, Chingford by 7.30pm. It is a long day which you will thoroughly enjoy especially when you see the happy children and know that you have contributed towards that smile.
If you are a licensed London taxi driver and would like to sign up to volunteer for the day, please fill in the contact form and we will be in touch.