I must start off by thanking on behalf of the committee and children, all the drivers that gave up their time to take part in the outing especially after the hard time we have all just gone through, as without them we would not have an outing, SO THANK YOU.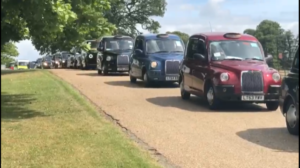 I must now go onto thank The Duke and Duchess of Bedford for hosting the day, all the staff at the Safari Lodge and Park, Peter Wilkinson and Suzy Collins from the Worshipful Company of Tinplate Workers alias Wire Workers Livery Company who sponsored the outing, Gateway Service, Location Medical, V & H Recovery, Ears PLC Radios, Nation Highways East Region for keeping their eyes on us on the Motorway. Thank you all for your help and co-operation.
The day started with over 50 drivers going to two schools in north-west London and picking up around 100 special needs children, it was then on up the M1 to junction 13 to Woburn Safari Park.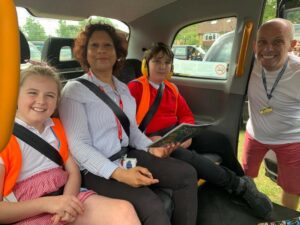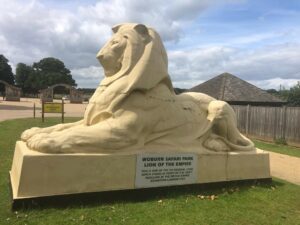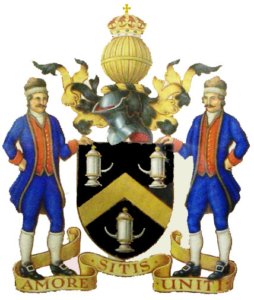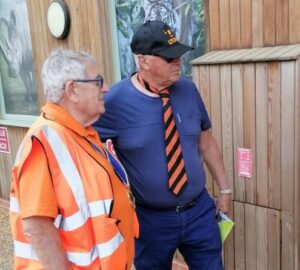 At the gates, the taxis were met by Peter and Suzy representing our sponsors, who gave each driver £30 for fuel, and helped to give out extra water, baseball caps and a Safari Park brochure to all the children. It was then off round the Safari Park to see the elephants, lions, bears, rhinos, camels and zebras, and lots more. It was then into the Safari Lodge Restaurant for lunch, after which everyone was free to explore the rest of the park, ending up at 3:30pm with a special sea lion show after which everyone had a picnic tea.
During the tea, a special presentation cheque for £8,000 was presented to the chairman of the charity Michael Son BEM by Daren Parr representing the team of Taxi Drivers who climbed Mount Meru and Mount Kilimanjaro in aide of the charity. Well done and thank you to all the climbers and good luck with your next adventure.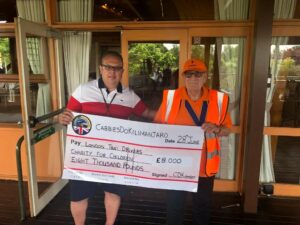 It was then back to the Taxis to take a lot of very happy, tired children back to the schools. Thanks again to everyone who has supported us, without who we would not be able to do the things we do for the less fortunate. As our old moto said:
"None walks so tall as he who stoops to help a child"
Stay safe and be lucky
Alan Cohen MBE
Special Projects Organiser
To make a donation to the London Taxi Drivers' Charity for Children, text TAXI £5, £10 or £20 to 70085