In this my 18th Annual Treasurers report I would like to start by thanking all the members of the Fund for their continued support at a most challenging time for fund raising.
I know how difficult it must be for the trade, but as usual they have come up trumps when it concerns our charity and the great work we do for London's disadvantaged and disabled children.
As we have done for the last 45 years, we hosted our annual Mad Hatters Tea Party at the Grosvenor House where we entertained over 500 children with special needs. This event costs us in excess of £14,500. This was the first event where we were proud to show off our new logo which was emblazoned on our new ruck sacks that all of the children were given.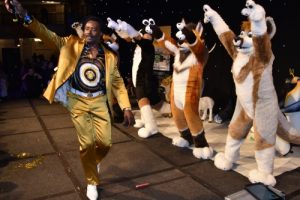 Our next big event was our famous visit to Southend on Sea. Over 300 children had a fun packed day there, where they ran wild in Adventure Island. This event cost in excess of £12,000 and was well worth the money spent. At this point I would like to acknowledge the generosity of the owners of Adventure Island.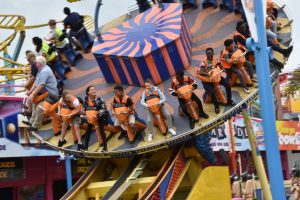 During the year we receive many requests for grants from different organisations requiring assistance. This year was no exception. We provided 180 high visibility vests for the children of Gainsborough School so that when they go out on school outings, they will be highly visible and display the Funds new logo. We also funded a Rocky Bell Sensory Garden for a profoundly autistic child, a stay and be safe scheme for Step by Step an organisation for autistic children, a campervan play bus for the Hornbeam Academy and a play station for a child who Katie at the Green Hut had raised money for but was stolen during a break in. Throughout the year we have many sponsors who without their help our task would be more difficult. At this point I would like to pay special thanks to Russell Poluck MBE of the Taxi Driver of the Year Charity Fund who over the years has supported us with generous donations. Also, Katie, of the Green Hut in Russell Square who collected a fantastic amount of money and also the many taxi garages and eating establishments who generously allow us to have a collecting box on their counters. A special vote of thanks goes to our friends at the Worshipful Company of Tin Plate Workers Alias Wire Workers for their continued support, and not forgetting Sainsbury's Low Hall in Chingford who allow us to use their car park and supply breakfast for our trips to Southend, together with supplying sandwiches for our Mad Hatters Tea Party.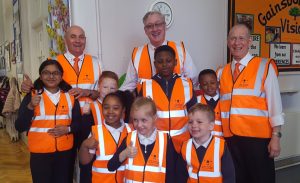 On a final point I would like to announce that over the years that the Fund has been helping London's Children we have raised in excess of £1,811,563 and have given by way of outings, grants and gifts over £1,614,952 – that is certainly a figure to be proud of. This is only because our committee receive no payment or stand down money for all their work and time, and everyone can be proud that our expenses are the lowest of any registered charity.
So once again, thanks to Michael and the committee for their support and here's to another successful year of fund raising.
Gerry Dunn MBE
Hon.Treasurer to LTCFC