We held another successful fundraiser at Burlington Arcade on Friday 21 December 2018 to raise funds for our Mad Hatter's Tea Party.
On the day we raised £2,130 which is a fantastic achievement.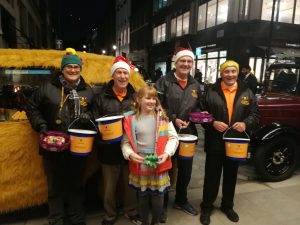 Committee members Sim, Malcolm, Steve and Colin having fun
The Mad Hatter's Tea Party, which takes in January 2019 and has been held yearly by our charity since 1962, is a party for 500+ special needs and disadvantaged children.
On this festive day of fundraising at Burlington Arcade we were accompanied by our famous reindeer taxi, who always manages to attract passing shoppers and tourists.

Everyone loves our reindeer taxi and you can see why!

Our chairman's new livery taxi was on show for all to see
We had the pleasure of Doug Cheshire on the day helping us with our fundraiser and Doug bought along his old London vintage taxi from 1934 which also wowed the crowds.

Doug Cheshire fundraising with the beautiful vintage taxi
At 4.45pm the fantastic choir Sing Gospel joined us to spread their love of gospel music and help us raise funds for the children.

The amazing Sing Gospel at Burlington Arcade
We had an amazing day and we would like to thank Burlington Arcade for their hospitality and we thank everyone for supporting us and donating to our charity.