We rely heavily on our donations from our kind sponsors and the fantastic efforts of our many volunteers including our wonderful London licensed taxi drivers.
We cannot thank you enough for the wonderful work you do and this week we were absolutely delighted by the amazing efforts of taxi driver Alec Wilkey.
Alec is a volunteer driver for our annual Southend-on-Sea trip, where we take over 200 special needs and disadvantaged children for a fun day out with their helpers.
In advance of the trip, Alec set up a Just Giving page and then arranged his own sponsorship opportunities with boxfit UK with his taxi to raise funds for our trip in early July.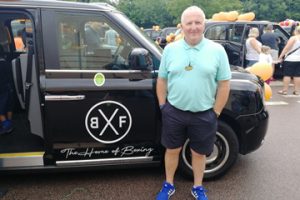 This week, Alec's effort provided us with a donation of £1779. It is a fantastic achievement and again shows the willing, determination and enthusiasm of London licensed taxi drivers.
Alec is a London licensed taxi driver of 21 years and when he is not in his taxi, he is a pro boxing coach at The Lansbury ABC club based Poplar, London E14.
We send out heartfelt thanks for Alec's support, which continues to show just how great our industry is.
You can find out more about Alec at teamwilkey.co.uk or follow Alec on Twitter, @Altkocoach.
If you would like to help us raise funds for our many trips and appeals, please contact us by completing our contact form, give us a call or visit our get involved page.