We are extremely pleased to be able to provide continued support to Norwood Buckets and Spades Lodge in 2018.
We are providing funding to enable the redecoration of one of the bedrooms at the Lodge, which is used daily to provide care to children with learning difficulties and complex health needs and respite for parents.
This particular room is now looking rather 'tired' and in need of complete redecoration. This will make the room much brighter and fresher, therefore making it much nicer for the children who come to Buckets and Spades for a much needed break.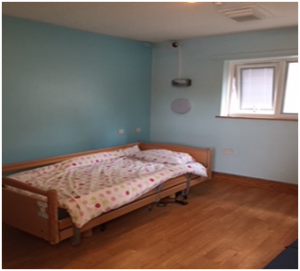 The work will hopefully be completed by mid November, allowing the room to be extensively used in the run up to Christmas.
This latest support from our charity follows on from two specific equipment purchases in 2017.
Continued support
During the course of 2017 we were delighted to purchase much needed essential equipment for the Buckets and Spades Lodge.
The first piece of equipment, purchased in April 2017 was a 'stand-alone' Shower Cradle, which has seen extensive daily use since its purchase. This was followed in August 2017, by the purchase of a 'Profiling Bed', which is an essential piece of equipment helping the Buckets and Spades Lodge to provide vital respite overnight stays for children and young people with multiple, complex and sometimes profound disabilities.
Hopefully the ongoing support from us will help the Buckets and Spades Lodge to better accommodate the needs of the young people they support, through improving their comfort and wellbeing.
Sarah Glynn, Trust Fundraiser from Norwood said 'we are so grateful to the LTCFC for their generosity and ongoing support to Norwood. Thank you as it means so much to us and especially the vulnerable children and young people we support at Buckets and Spades'.
Find out more about Norwood Buckets and Spades