On Sunday 19th January, the London Taxi Drivers Charity for Children's Chairman Bradley Winfield welcomed around 600 children with special needs and their carers to the 48th Mad Hatter's Tea Party at the JW Marriott Grosvenor House, before handing over to DJ Lee Raw to start up his decks. From this moment on everyone knew the party was going to be full of fun and energy as Action Amanda, a firm favourite with the children, took to the stage and got them up on the floor dancing and singing. Amanda's passion for keeping children healthy and happy is amazing and she brought along Laura Church with some of her Body Buddies Nutrition characters to interact with the children also giving out good messages of healthy eating and looking after our bodies.
Next up a special performance by Elvis Shmelvis and lookalike Ray "Elton" Johnson who sang a medley of well-known Elvis & Elton songs before going on to have hundreds of photos taken with the children.
DJ Lee invited onto the stage three of the team from Cabbies do Kilimanjaro. Daren and John will be climbing Mount Meru before meeting 30 taxi drivers, including committee member Claire Zazzara, at the foot of Mount Kilimanjaro to climb this together. Funds raised will be split between the London Taxi Drivers Charity for Children and a community project in Tanzania and the charity is following their training process with sheer amazement at the challenge they are tackling – good luck to them all.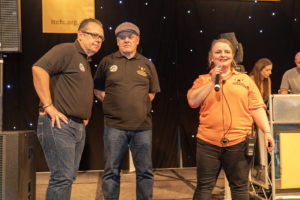 Fabulous singer/songwriter and top-ranking international beat-boxer Dana McKeon performed for the children and gave instruction on beat-boxing, which was a lot of fun. Dana was brilliant and the children loved her.
Next onto the dance floor were the wonderful Dance 21 a very special dance group of children with Down Syndrome who gave a brilliant performance. They were followed by the Crystals who amazed the children with their fabulous cheerleading routines.
Six Disney princesses from "Let It Glow" came to the ball and Elsa & Anna sang some new songs from Frozen 2. The final act of the party Donchez Dacres, finalist and David Walliams "Golden Buzzer" act from Britain's Got Talent 2018, was a hit with the children singing a set that included his infamous "Wiggle Wine".
In addition to those mentioned above there are so many other wonderful people to whom we give tremendous thanks:
The incredible costumed characters: the Furry Tail Folk, Paul Hazell (Batman), Entertainment One Ltd & Rainbow Productions for Peppa Pig, the QPR FC mascots, and the UK Garrison (including Captain Jack Sparrow, Batman, the Star Wars crew and an enormous Chewbacca)
London's Pearly Kings & Queens
Magicians Tracy Wise and Norman Gee
Gemma Blackie-Kelly and her team of face painters
Global Marketing Group for the glow sticks
Location Medical Services for their first aid support
Photographer Tony Wyatt
DJ Lee Raw and Mark Cohen of Genie Events for supplying the disco
INK Recruitment for sponsoring the party bags for the children
Peter Jones & Partners, Sloane Square for supplying Edgar the Dragon
Amanda Miller and all of the Police Officers and Cadets from Redbridge, Barking & Dagenham, and Westminster
London Fire Brigade (Soho station)
Christina Bowden of Bowden PR
Cabbies do Kilimanjaro & Photographer Tim King
Lorraine Solomons of Success Express Music
EARS Plc for the radios
Kent Balloons for the helium gas
Ultimate Promotions for the LTCFC banners & committee baseball caps
Sainsbury's Low Hall for the buffet catering
Secure Media for the wristbands
The Management & staff of the JW Marriott Grosvenor House
And last but not least the volunteer drivers, helpers, and sponsors too many to name individually but we sincerely thank each and every one of you.
Thanks also to Chiswell Studios for making the below video for us…..